Expandable Headings on Data and Resources
Resources for viewing the data can be found under various expandable headings (categories) underneath the project and dataset description. To display the resources, click on the down arrow to expand the view (shown beside red arrow). The headings that display will vary from dataset to dataset depending on what has been provided by the data custodian. Possible data categories are shown below.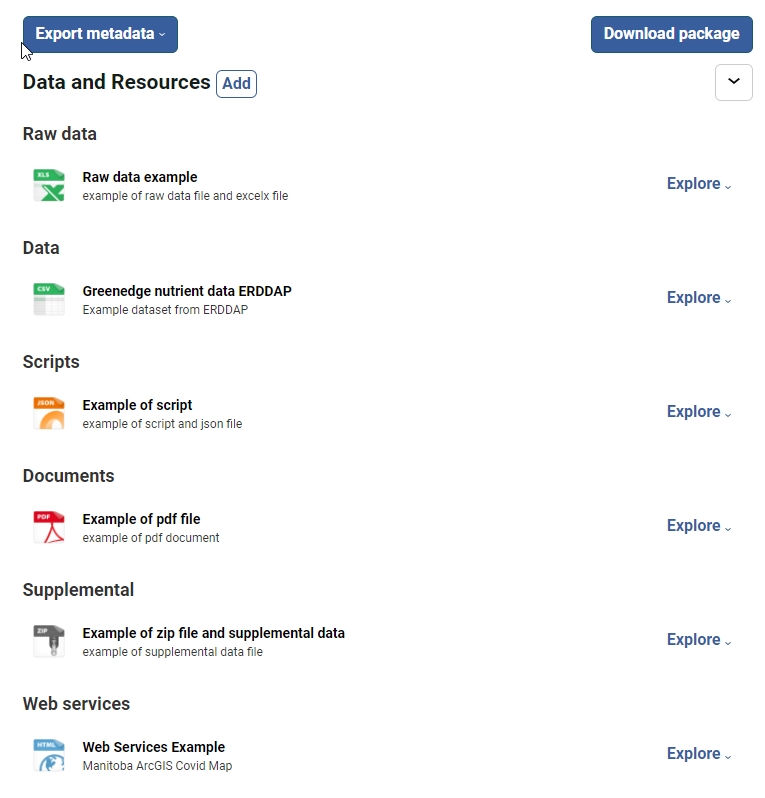 Raw data: is data that has not been curated or corrected
Data: Can be any level of data provided by the data provider. The dataset level is listed in the accompanying metadata
Scripts: Scripts are any type of code or information that was used to clean or analyze the data
Documents: Can be any type of report or information related to the data. Examples could include a codebook or cookbook about the data, a field log, research report
Supplemental: Supplemental information is any type of information that does not fit in any of the other categories but the users wishes to share (e.g. image files)
Web Services: Any type of external service provided via the internet.
When users download a package on a data or project page, they will download a zipped file containing the all the files from every resource category except Raw Data.
Related Resources
Users are able to connect their data to additional resources that may be related to that dataset or project. This allows datasets to be discoverable multiple ways, and facilitates reuse of key information. Additional types of information that can be related to the data are listed below. Resources can be linked as related resources and are selectable when creating or editing a dataset. To relate information using this method, the information must have been added to CanWIN via CanWIN templates (See Publishing Data).
| Related Field | Description |
| --- | --- |
| Instruments | An instrument is any device used for making measurements, alone or in conjunction with one or more supplementary devices. |
| Deployments | A deployment is the act of placing a platform or instrument in an area for a period of time longer than 1 day. |
| Campaigns | A campaign occurs over a specific time period over which data is collected, either from a base camp or a facility. |
| Publications | A publication is any type of document including grey literature, unpublished reports, field notes, preprints etc. |
| Platforms | A platform is a container or structure from which instrumentation is deployed (e.g. mooring, meterological station) |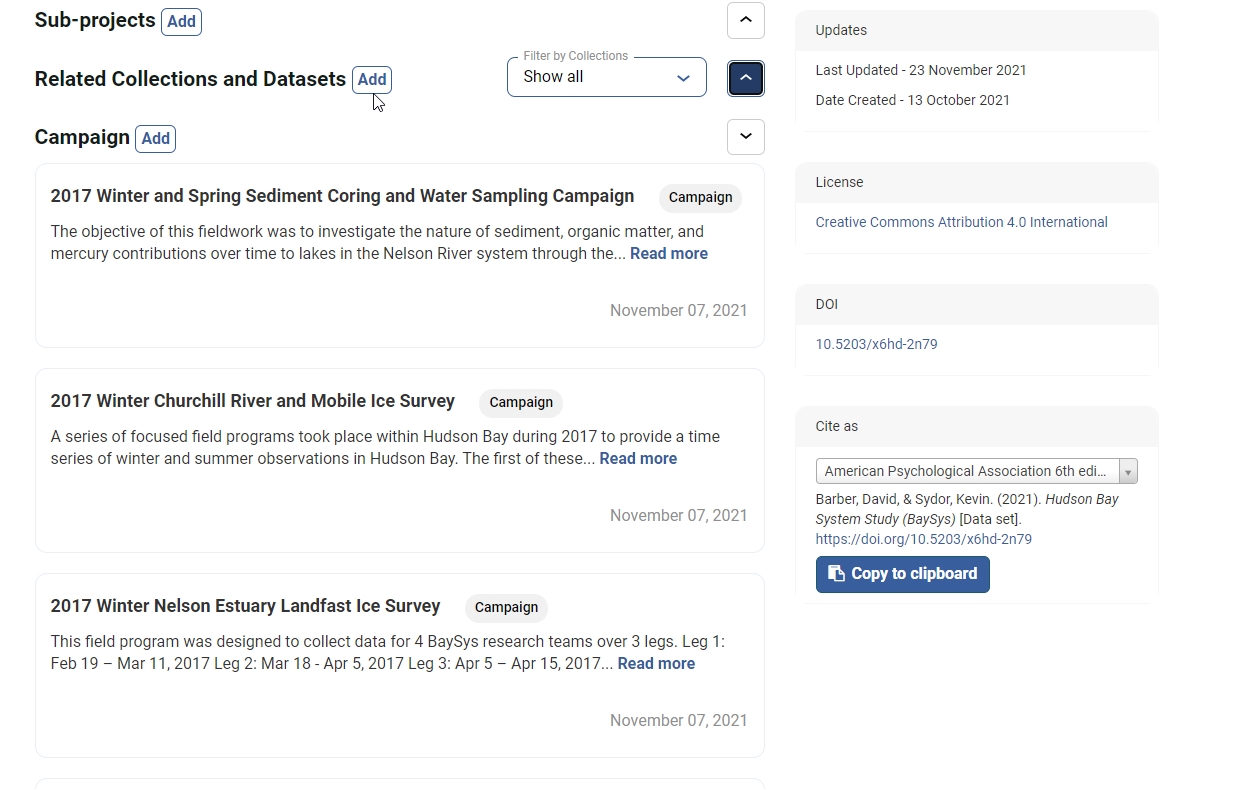 Users are also able to provide related resources by adding them into the Related Resource or Related Publication boxes in a dataset metadata template. Resources related using this method are not hosted within CanWIN, but are accessible via a permanent Identifier of some sort (e.g. DOI, PMID)